Amit H. Parekh, D.O.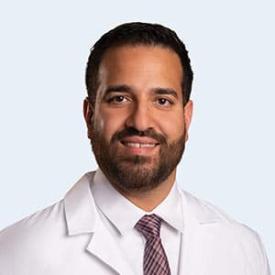 Amit H. Parekh, D.O.
Areas of Specialty
Back, Neck, Spine, Sports Medicine, Trauma
Dr. Amit Parekh is a fellowship-trained orthopaedic spine surgeon who joined Desert Orthopaedic Center in September 2022. He uses advanced, evidence-based techniques to treat a wide array of spine conditions and injuries.
Dr. Parekh earned his undergraduate degree in psychology from the University of Illinois Chicago and then completed his Doctor of Osteopathic Medicine degree at A.T. Still University in Mesa, Arizona. After this, he moved to Las Vegas for an orthopaedic surgery residency at Valley Hospital Medical Center. Committed to additional training, Dr. Parekh underwent an orthopaedic spine surgery fellowship at Hoag Orthopedic Institute in Irvine, California.
Prior to becoming a doctor, Dr. Parekh was in the Illinois Army National Guard as an army healthcare specialist initially and then as an ambulatory platoon sergeant. He is currently commissioned as an orthopaedic surgeon with the U.S. Army Reserve. It was his experience as an army medic that encouraged him to pursue spine surgery.
Dr. Parekh believes that the orthopaedic and spine surgery fields are in a technological revolution, including computer navigation, artificial intelligence, robotic assistance, biologic advancements, endoscopic surgery, and augmented reality. Dedicated to offering his patients the latest advances and techniques, he has adopted some of these practices to help his patients receive the best possible treatment and care. Dr. Parekh's expertise includes:
Cervical & thoracic decompression & fusion
Fracture fixation & nonsurgical fracture care
Spine fracture surgery
Spinal injections
Lumbar fusion, including robotic-assisted
Lumbar microdiscectomy & laminectomy
Scoliosis correction
Available to see patients in Las Vegas and Henderson at our Central and Henderson offices, Dr. Parekh is dedicated to providing high-quality patient care.
Education & Training
Bachelor of Arts in Psychology: University of Illinois Chicago, Chicago, IL
Doctor of Osteopathic Medicine: A.T. Still University, Mesa, AZ
Orthopaedic Surgery Residency: Valley Hospital Medical Center, Las Vegas, NV
Orthopaedic Spine Surgery Fellowship: Hoag Orthopedic Institute, Irvine, CA
Professional Affiliations
American Academy of Orthopaedic Surgeons
American Osteopathic Association
North American Spine Society
Scoliosis Research Society
Spine Intervention Society
The American Osteopathic Academy of Orthopedics