Kyle J. Hancock, M.D.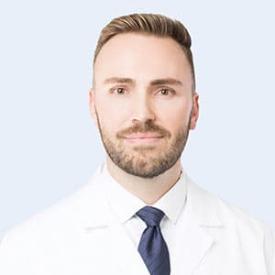 Locations
8402 West Centennial Parkway
Suite 100
Las Vegas, NV 89149
United States

8205 West Warm Springs Road
Suite 250
Las Vegas, NV 89113
United States

8689 West Charleston Boulevard
Suite 105
Las Vegas, NV 89117
United States

2930 West Horizon Ridge Parkway
Suite 100
Henderson, NV 89052
United States
Kyle J. Hancock, M.D.
Areas of Specialty
Sports Medicine, Knee, Shoulder, Hip, Elbow, Joint Replacement, Trauma
Dr. Kyle Hancock is a board-certified and fellowship-trained sports medicine surgeon who specializes in minimally invasive arthroscopic surgery of the hip, knee, shoulder, and elbow. Having provided sports medicine care for professional athletes of the NFL, NBA, NHL, MLB, WNBA, and UFC, Dr. Hancock understands the unique needs of athletes. He uses his experience to provide the highest level of care to his athletes of all levels and his nonathlete patients as well. Dr. Hancock believes there is no greater reward than seeing his patients recover and return to enjoying the activities they love. His patient care philosophy is a team-based approach, where the doctor and patient work together to obtain excellent results and achieve the patient's specific goals.
Dr. Hancock is a native of Wyoming. He graduated as valedictorian from Evanston High School and summa cum laude from the University of Southern California in Los Angeles before attending medical school. At the University of Washington School of Medicine in Seattle, he earned his Doctor of Medicine degree and graduated at the top of his class with honors. He then completed residency training at the prestigious orthopaedic surgery program at the University of Iowa Hospitals & Clinics. After completing residency, Dr. Hancock was selected to undergo additional subspecialty training in sports medicine and arthroscopy at the number one–ranked orthopaedic hospital in the U.S., the Hospital for Special Surgery in New York City. During his time in New York, Dr. Hancock trained directly under many of the world's leading experts in sports medicine and minimally invasive surgery of the hip, knee, shoulder, and elbow. He also cared for professional athletes from all over the world and served as the full-time fellow team doctor for the New York Giants, New York Liberty, and New York Guardians.
Throughout clinical training, Dr. Hancock was actively engaged in research and innovation. He has presented his findings at regional and national meetings, has been awarded multiple grants, and published numerous studies in the leading scientific journals of orthopaedic surgery and sports medicine. His research has included a wide array of topics, including ACL reconstruction, meniscus surgery, rotator cuff surgery, shoulder instability and labral tears, cartilage surgery, hip arthroscopy, hip labral tears, hip impingement, AC joint reconstruction, fractures, and the measurement of patient-reported outcomes.
Dr. Hancock serves as a team doctor for the Las Vegas Raiders and previously served as a team doctor for the Vegas Golden Knights and Henderson Silver Knights. He is a member of the American Academy of Orthopaedic Surgeons and the American Orthopaedic Society for Sports Medicine. He is also an active outdoorsman and lifelong athlete. When he is not seeing patients, he enjoys basketball, football, traveling, and spending time outdoors hiking, mountaineering, skiing, snowboarding, and wakeboarding.
Available to see patients in Las Vegas and Henderson at our Northwest, Southwest, West Central, and Henderson offices, Dr. Hancock is dedicated to providing high-quality patient care.
Education & Training
Bachelor of Arts in Biology: University of Southern California, Los Angeles, CA
Doctor of Medicine: University of Washington School of Medicine, Seattle, WA
Orthopaedic Surgery Residency: University of Iowa Hospitals & Clinics, Iowa City, IA
Sports Medicine Fellowship: Hospital for Special Surgery, New York, NY
Certification
Board-Certified: American Board of Orthopaedic Surgery
Team Affiliations
Las Vegas Raiders
Vegas Golden Knights
Henderson Silver Knights
Professional Affiliations
American Academy of Orthopaedic Surgeons
American Orthopaedic Society for Sports Medicine
Arthroscopy Association of North America
Mid-America Orthopaedic Association
Hospital Affiliations
Centennial Hills Hospital
Desert Springs Hospital Medical Center
Dignity Health - St. Rose Dominican - San Martin Campus
Dignity Health - St. Rose Dominican - Siena Campus
Henderson Hospital
Institute of Orthopaedic Surgery
Mountain View Hospital
Southern Hills Hospital & Medical Center
Spring Valley Hospital Medical Center
Summerlin Hospital Medical Center
Sunrise Hospital & Medical Center