Michael L. Lee, M.D.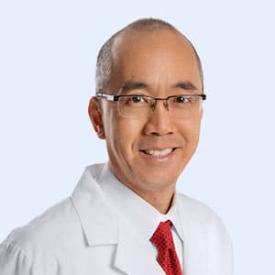 Michael L. Lee, M.D.
Areas of Specialty
Elbow, Hand, Sports Medicine, Wrist
Dr. Lee is originally from Michigan and graduated from the University of Michigan Medical School. He completed a 5-year orthopaedic surgery residency at The University of Tennessee Health Science Center, Campbell Clinic. He completed a fellowship, specializing in hand, wrist, and elbow surgery at Columbia University Medical Center College of Physicians and Surgeons and New York Orthopaedic Hospital in New York City. Dr. Lee was in private practice for five years in Corpus Christi, Texas, prior to joining Desert Orthopaedic Center. Dr. Lee is board-certified by the American Board of Orthopaedic Surgery and holds a certificate of added qualification of hand surgery. He is a fellow of the American Academy of Orthopaedic Surgeons. Dr. Lee has done research at various institutions including the National Institutes of Health in Washington, D.C., and has authored numerous articles and book chapters. Dr. Lee specializes in the surgical and nonsurgical treatment of hand, wrist, and elbow injuries, including fractures, dislocations, tendon lacerations, arthritic conditions, carpal tunnel syndrome, and trigger finger.
Available to see patients in Las Vegas and Henderson at our Central, Northwest, and Henderson offices, Dr. Lee is dedicated to providing high-quality patient care.
Education & Training
Bachelor of Science in Biomedical Sciences: University of Michigan, Ann Arbor, MI
Doctor of Medicine: University of Michigan Medical School, Ann Arbor, MI
General Surgery Internship: The University of Tennessee Health Science Center, Memphis, TN
Orthopaedic Surgery Residency: The University of Tennessee Health Science Center, Campbell Clinic, Memphis, TN
Hand Surgery Fellowship: Columbia University Medical Center College of Physicians and Surgeons, New York, NY
Certification
Board Certification: American Board of Orthopaedic Surgery
Certificate of Added Qualification of Hand Surgery
Hospital Affiliations
Institute of Orthopaedic Surgery
Sunrise Hospital & Medical Center