Parminder S. Kang, M.D.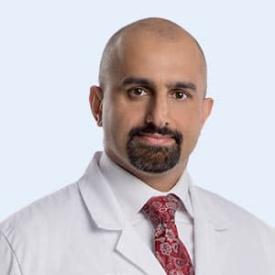 Locations
8402 West Centennial Parkway
Suite 100
Las Vegas, NV 89149
United States

8205 West Warm Springs Road
Suite 250
Las Vegas, NV 89113
United States

8689 West Charleston Boulevard
Suite 105
Las Vegas, NV 89117
United States
Parminder S. Kang, M.D.
Areas of Specialty
Hip, Joint Replacement & Revision, Knee, Sports Medicine, Trauma
A native Las Vegan, Parminder S. Kang, M.D., is happy to be back in his hometown. He graduated from the Academy of Math, Science, Arts, and Technology at Las Vegas' Ed W. Clark High School. He then graduated with honors in physics from the University of California at Berkeley in 2001. A knee injury in college led him to pursue a career in medicine. Dr. Kang received his medical degree from the State University of New York Downstate Medical Center College of Medicine where he graduated at the top of his class (AOA) in 2005. He then completed his orthopaedic residency at the Baylor College of Medicine in the world-renowned Texas Medical Center in 2010. During his residency, he received the Journal of Orthopaedic Trauma Best Teaching Resident Award. After completing his general orthopaedic training, he obtained a prestigious fellowship for an additional year of training in adult reconstruction and hip preservation at Washington University in St. Louis, Missouri, in 2011.
During his fellowship, Dr. Kang worked directly with surgeons and researchers who were instrumental in developing the treatment protocol for hip problems. He also trained with Dr. Robert Barrack, one of the pioneers in bringing hip resurfacing to the United States.
Throughout his clinical training, Dr. Kang has done research on various topics, such as proprioception following total joint replacement surgery and the effects of metal-on-metal hips. He has been published in peer review journals, such as the Journal of Orthopaedics. He has also authored an instructional DVD about hip resurfacing with Dr. Robert Barrack and written review chapters on primary and revision total hip replacement.
Dr. Kang is a member of the American Academy of Orthopaedic Surgeons, the American Association of Hip and Knee Surgeons, and the Arthroscopy Association of North America. His practice focuses on providing advanced conservative and surgical care to patients with hip and knee problems, particularly with injuries to the cartilage and/or labrum. He uses the newest techniques and advanced technologies to treat his patients.
His subspecialty qualifications include:
Minimally invasive total hip arthroplasty
Hip resurfacing
Hip arthroscopy
Hip preservation procedures (pelvic osteotomy, surgical dislocation)
Knee arthroscopy
Minimally invasive total and partial knee arthroplasty
Complex hip and knee revision surgery
Dr. Kang is a certified diver and also enjoys hiking, power lifting, biking, and playing softball. He is a big believer in giving back; in the spring of 2012, he went on a medical mission to Guatemala where he provided general orthopaedic care, both surgical and nonsurgical. He is also active in the community giving talks on hip and knee arthritis at various hospitals. Dr. Kang has been a valued member of Desert Orthopaedic Center since 2012.
Available to see patients in Las Vegas at our Northwest, Southwest, and West Central offices, Dr. Kang is dedicated to providing high-quality patient care.
To learn more about Dr. Kang, please click here.
Education & Training
Bachelor of Arts: University of California, Berkeley, Berkeley, CA
Doctor of Medicine: State University of New York Downstate Medical Center College of Medicine, Brooklyn, NY
Internship: Baylor College of Medicine, Houston, TX
Orthopaedic Residency: Baylor College of Medicine, Houston, TX
Adult Reconstruction and Hip Preservation Fellowship: Washington University in St. Louis, St. Louis, MO
Certification
Board Certification: American Board of Orthopaedic Surgery
Professional Affiliations
Alpha Sigma Phi Fraternity
American Academy of Orthopaedic Surgeons
American Association of Hip and Knee Surgeons
Arthroscopy Association of North America
Hospital Affiliations
Centennial Hills Hospital
Mountain View Hospital
Orthopaedic Specialty Hospital of Nevada