Thomas Dunn, M.D.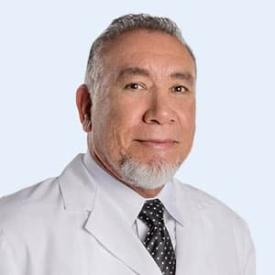 Thomas Dunn, M.D.
Areas of Specialty
Back, Neck, Spine, Sports Medicine
Dr. Dunn received a bachelor's degree in biology from the University of California, San Diego. He graduated from the University of California, Irvine School of Medicine, receiving a medical degree in 1985. Deciding to pursue a career in surgery, he completed two years of general surgery training at the University of California, Irvine Medical Center followed by four years of orthopaedic surgery training at the same facility. To follow his interest in spine surgery, he was accepted to additional subspecialty surgery training at the world-renowned Rancho Los Amigos National Rehabilitation Center in Downey, California, (one of the few accredited fellowship training programs in spine surgery) where he completed additional intensive training and research involving problems of the spine. After three years of private practice in La Jolla, California, Dr. Dunn was recruited by Desert Orthopaedic Center in 1995 to fill a growing need for highly qualified spine specialists in Las Vegas, Nevada.
Dr. Dunn has an excellent reputation not only regarding the success of his clinical and surgical results but also regarding his very conservative approach to spinal disorders. His approachable personality and bedside manner stems from his emphasis on patient communication to facilitate clear understanding of the patient's diagnosis, prognosis, and treatment options, as well as putting his patients at ease regarding their condition. Should the patient and he decide that surgery is needed, Dr. Dunn has extensive surgical experience having performed thousands of surgical procedures to the neck and back with an excellent track record for success. His expertise includes instrumented reconstructive procedures, simple microsurgical techniques, and most recently the advent of total disc replacement surgery. Dr. Dunn has impeccable qualifications recognized by the highest standards in the medical community of this country. He is board-certified and a diplomate of the American Board of Orthopaedic Surgery and the American Board of Spine Surgery. He is a member of the American Academy of Orthopaedic Surgery, the North American Spine Society, the American Medical Association, the Nevada Orthopaedic Society, and the Clark County Medical Society. Dr. Dunn is licensed to practice medicine and surgery in the states of Nevada, California, Arizona, and formerly, Hawaii.
Available to see patients in Las Vegas at our Central, Northwest, and Southwest offices, Dr. Dunn is dedicated to providing high-quality patient care.
Education & Training
Bachelor of Arts in Biology: University of California, San Diego, San Diego, CA
Doctor of Medicine: University of California, Irvine School of Medicine, Irvine, CA
General Surgery Internship: University of California, Irvine Medical Center, Orange, CA
General Surgery Residency: University of California, Irvine Medical Center, Orange, CA
Orthopaedic Surgery Residency: University of California, Irvine Medical Center, Orange, CA
Spine Surgery Fellowship: Rancho Los Amigos National Rehabilitation Center, Downey, CA
Certification
Board Certification: American Board of Orthopaedic Surgery
Team Affiliations
University of Nevada, Las Vegas
Professional Affiliations
American Academy of Orthopaedic Surgeons
Clark County Medical Society
Nevada State Medical Association
North American Spine Society
Hospital Affiliations
Dignity Health – St. Rose Dominican, San Martin Campus
Institute of Orthopedic Surgery
Southern Hills Hospital & Medical Center
Spring Valley Hospital Medical Center
Valley Hospital Medical Center