Timothy B. Sutherland, M.D.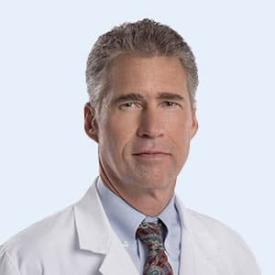 Timothy B. Sutherland, M.D.
Areas of Specialty
Knee, Shoulder, Sports Medicine
Dr. Sutherland attended The University of Chicago Pritzker School of Medicine and graduated with honors in 1987. He completed his internship and residency in orthopaedic surgery at the University of California Davis Medical Center in Sacramento, California. Dr. Sutherland received advanced fellowship training in sports medicine, arthroscopic, and reconstructive surgery at the internationally renowned American Sports Medicine Institute in Birmingham, Alabama. As a fellow, he was involved in the education and treatment of many professional athletes in the National Football League and Major Baseball League. He has practiced in Las Vegas with Desert Orthopaedic Center since 1993. He is board-certified by the American Board of Orthopaedic Surgery, is a fellow of the American Academy of Orthopaedic Surgery, and is a member of the American Sports Medicine Fellowship Society, the Nevada Orthopaedic Society, and the Clark County Medical Society. Dr. Sutherland has been voted one of the top orthopaedic surgeons in Las Vegas on multiple occasions.
Dr. Sutherland specializes exclusively in the evaluation and treatment of knee and shoulder injuries and disorders. He has extensive research experience and has published multiple chapters and papers on the surgical treatment of the knee and shoulder. He has performed over 5,000 arthroscopic and reconstructive knee and shoulder surgical procedures and performs the latest advanced techniques in arthroscopic and minimally invasive surgery. He has served as team physician for many high schools, collegiate, and professional sports teams and continues to treat competitive and recreational athletes of all levels and abilities.
Dr. Sutherland has great respect for each patient's time and has structured his clinic to allow each patient to be seen in a prompt and timely manner. After thorough initial evaluation, individually directed conservative and/or surgical treatment is provided to restore the patient to their maximum functional level, alleviate pain, and to allow rapid return to activities of daily living, recreation, sports, and employment. Dr. Sutherland emphasizes clear communication with the patient, encourages questions, and utilizes a variety of models and written materials to educate the patient about their injury and treatment options. Patients undergoing surgical procedures are provided with operative arthroscopic photographs and postoperative rehabilitation is individualized for each patient's needs and requirements. Dr. Sutherland values each patient as a partner in their medical care and helps each patient come to an educated decision regarding their treatment and injury management.
Available to see patients in Las Vegas at our Central and Northwest offices, Dr. Sutherland is dedicated to providing high-quality patient care.
Education & Training
Bachelor of Arts: Occidental College, Los Angeles, CA
Doctor of Medicine: The University of Chicago Pritzker School of Medicine, Chicago, IL
Orthopaedic Surgery Internship: University of California, Davis, Davis, CA
Orthopaedic Surgery Residency: University of California, Davis, Davis, CA
Sports Medicine Fellowship: American Sports Medicine Institute, Birmingham, AL
Certification
Board Certification: American Board of Orthopaedic Surgery